Christmas Beverage Recipes

Here are some great Christmas Beverage Recipes to serve at all of your holiday gatherings! Some of these recipes are cocktails to enjoy with your friends...and then some of them are to savor on a cold winter's night by a roaring fire. Some of these recipes you will serve at parties...some of them you can give as Christmas Gifts.
I hope that you enjoy these Christmas beverage recipes. I have a hunch that your guests will be applauding your culinary skills. Just you and I know that all of these recipes are super easy!
Enjoy!
Spice Tea
My mom liked to make this Spice Tea recipe. She made it since I was a small child. She would have it for us to drink, serve to guests, and make as Christmas gifts. My mom would make a batch and spoon it into jars, tie with a ribbon and give to friends. She would also bake up some wonderful banana bread or pumpkin bread, put both in a basket and give to friends and neighbors for Christmas. I hope that you enjoy this recipe.
Spice Tea
3/4 cup of instant tea with lemon & sugar, 1 cup of orange tang, 1/2 to 1 1/2 cup of sugar, 1 1/2 teaspoon of cimmamon, 1 teaspoon of crushed cloves, add red hots
Mix all ingredients together. Add 2-3 heaping teaspoons per cup of HOT water! 2 to 3 heaping teaspoons per cup
Hot Chocolate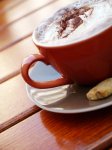 This is a wonderful chocolaty recipe that for all of you chocoholics out there!
1 lg. box Nestle's Quick, 1 (20 qt.) box powdered milk, 1 lg. jar Coffee Mate, 1 box powdered sugar, 4 oz. Hershey's Cocoa, chocolate chips
Mix all ingredients in one large container. For one cup, use 1/4-1/3 cup of mixture in a cup of boiling water. Throw in some chocolate chips! Mix well. This is a great Christmas Beverage Recipe!
Christmas Coolers
This is a refreshing, drink that will "warm" up all of your Christmas Party guests!
2 (12ounce) cans frozen cranberry juice concentrate, thawed, 2 bottles white zinfandel (chilled), 1 (10 ounce)bottle club soda, chilled. Garnish with maraschino cherries and orange curls.
Combine first 2 ingredients in a pitcher. Cover and chill. Add club soda just before serving. Serve over ice. Garnish if you'd like! Makes about 10 1/2 cups.
Ice Cream Punch
Do you like coffee? If you do, you will love this Christmas Beverage Recipe that I have kept for about 15 years. Very rich and delicious!
1 pint coffee ice cream, 1/2 cup brandy, 1/2 cup white creme de cacao, 2 tablespoons milk.
Combine all ingredients in container of an electric blender; process until smooth. Serve immediately. Makes about 3 1/4 cups.
Great Margarita!
I love a good margarita! It doesn't matter if it's summer or winter, they make a great addition to any party! If you have never tried margaritas, they have a lime flavor. You can also add other fruit like strawberries or mango to suit your taste!
Ingredients
2 quarts ice cubes, 1 (12 fluid ounce) can frozen limeade concentrate, 12 fluid ounces tequila, 1/4 cup triple sec 1/4 cup sugar Garnish: margarita salt for the rims, lime slices cut in half
DIRECTIONS Make 2 batches with the above ingredients. Place 1 quart ice cubes in a blender. Add 1/2 can limeade, 6 ounces tequila, 1/8 cup sugar and 2 tablespoons triple sec. Blend at highest speed until drink is almost smooth. Pour into a pitcher and repeat with remaining ingredients. Store in the freezer. To salt the margarita glasses, pour a layer of salt on a plate. Moisten each glass rim with lime; dip each rim in the salt. Pour margaritas into each glass; garnish with lime. Serve immediately...I keep in freezer during the party, and take out as needed! Cheers!
Mudslide
If you like the taste of coffee...you will love this creamy drink.
1 part vodka, 1 park Kahlua or coffee liqueur 1 part Irish cream liqueur
Shake ingredients vigorously in a cocktail shaker with cracked ice. Strain into a glass filled with ice. I like to garnish with chocolate syrup!
Rosy Mulled Punch
Here is a great Punch to keep you warm during the Christmas holidays. The cloves and allspice really add a nice holiday flavor!
Syrup
2 cups water, 1 cup sugar, 1 teaspoon whole cloves, 1 teaspoon whole allspice, 2 cinnamon sticks, 1 lemon (sliced), 1 orange (sliced).
For the Nonalcoholic version: 6 cups rasberry cranberry drink
For alcoholic version: 2 750 ml bottles dry red wine
In small saucepan, combine all syrup ingredients. Cook over medium heat until mixture comes to a boil, stirring constantly. Reduce heat; simmer 10 minutes. Strain and cool. Refrigerate syrup until serving time.
At serving time place half of prepared syrup (about 1/1/4 cups) in each of 2 large saucepans. To one add rasberry-cranberry drink. To the other add wine. Simmer each over low heat until thorougly heated. Serve hot with cinnamon sticks and citrus twists, if desired.
This makes a great Christmas Beverage Recipe for loads of holiday occasion.
Hot Apple Cider
I like to make sure that I have apple juice around during the holiday season. I love to make this when it's really cold outside.
1 qt. apple juice, 1 stick cinnamon bark, 1/4 c. nutmeg, 1/2 c. sugar
Combine ingredients and bring to boil. Cover and simmer 10 minutes. Strain and serve hot. Use sticks of cinnamon bark, orange or lemon for garnish.
Wassail
This will get you into the Christmas spirit! This is a great traditional Christmas Beverage Recipe that is great for an open house. You just throw everything in a crockpot and forget about it while you enjoy your guests!
1 gal. apple cider, 1 lg. can pineapple juice, 1 (12 oz.) can frozen concentrated orange juice, 1 lemon (sliced), 40 whole cloves, 15 cinnamon sticks.
In a large crockpot, combine all ingredients. Heat on low for 1 hour. Serve hot.


Check out my other recipe links below.
Home
Christmas Recipes
Christmas Appetizers
Christmas Bar Recipes
Christmas Beverage Recipes
Christmas Cake Recipes
Christmas Candy Recipes
Christmas Cookie Recipes
Christmas Morning Brunch